French Toast w/ Strawberry Compote & Bacon


***Whiteboard Specials***

Turkey Burger. Choose from Cranberry/Cream Cheese, OR Cheddar/Jalapeno!!!!

Cream of Cheese and Broccoli


OUR DRESSING ARE HOMEMADE

DILL RANCH,  BALSAMIC VINAIGRETTE, HONEY MUSTARD, RUSSAIN, ITALIAN

**ASK FOR SEASONAL DRESSINGS**

Served until 11:00 am

Happy Jack 
Bacon, 2 eggs, green chili, tomato, Jack cheese on grilled sourdough

BELT 
Bacon, 2 eggs, lettuce, tomato, toasted on wheat or sourdough, chipotle aioli

Stapley 
Sourdough, Wheat, Rye or Bagel
2 eggs, 2 slices of cheese, ham, bacon, or chicken.

English Muffin Sandwich 
Egg, cheese, with bacon, ham, or chicken

2 eggs, cheese, potatoes, homemade salsa

Scrambles are served with 1 piece of toast or corn tortillas

Plowboy 
Choose Bacon, ham, sausage, or chicken

Horse 
3 eggs, bacon, ham and sausage

Hen House 
Just eggs, potato, and cheese

Green Chili 
Green chili, onions and jalapenos

Popeye 
Spinach, bacon or chicken, with swiss or feta

Veggie House 

Green Chile Tacos (2) 

Egg, green chili and cheese

Spinach Bacon Tacos(2) 
Egg, spinach, bacon and feta cheese

Tacos (2) 
Egg, bacon or ham with cheese

Toast 

Wheat, sourdough, rye

Bagel, English Muffin 
w/cream cheese or peanut butter 

Raisin Bread

1 Egg    2 Eggs 

Bacon (2) Bacon (4) 

Sausage (2) 

Cottage Fried Potatoes 

Loaded Potatoes 
bell peppers, onions and cheese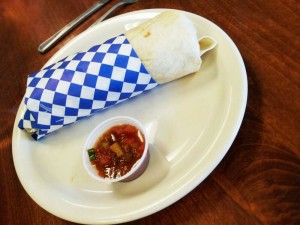 Coffee 
Iced Tea  lg. 
Hot Tea 
Milk sm.  lg. 
Orange Juice sm.  lg. 
Hot Cocoa sm.  lg. 

Lunch at Downtown Rendezvous
With choice of daily side

Swiss cheese, grilled veggies, sauerkraut & Russian dressing on grilled rye or sourdough


American, Swiss, jack, cheddar on grilled sourdough


Cream cheese, cheddar and jalapeno on grilled sourdough

ADD BACON


Cold or Toasted wheat, sourdough or rye w/ lettuce and tomato and onion


Diced veggies/lettuce all wrapped up in a tortilla with dill dressing or hummus

with Chicken


On Sourdough, Wheat or Rye

With Ham 

American Burger Tacos (3)

Served with salsa and/or secret sauce


Topped with Chipotle aioli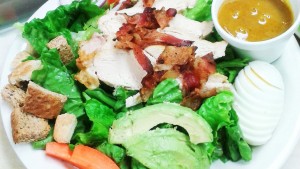 Choose from our house-made salad dressings: dill ranch, Russian, balsamic, honey mustard, Caesar and seasonal selections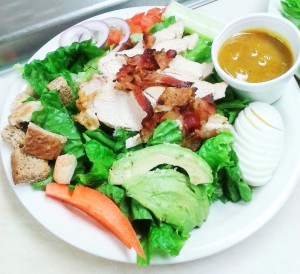 Lettuce, seasonal veggies, cheddar, hard boiled egg, crackers, hummus and your choice of dressing


Baked chilled chicken, bacon, Swiss, lettuce, tomatoes, hard boiled egg, seasonal veggies and croutons with your choice of dressing


Ground Beef or Chicken, Cheddar Cheese, Tomatoes, Onions, Sour Cream, Salsa with Chipotle Sauce


Romaine lettuce, olives, hardboiled egg and croutons with Brittanee's Caesar dressing

Add Chicken


No lettuce just all veggies plus hard boiled egg, Swiss, crackers, dill dressing and hummus for dipping

Add Chicken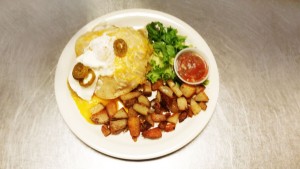 Baked Chicken, Bacon, Swiss cheese on grilled sourdough with dill dressing


Grilled Sourdough, Chicken, Jack Cheese, green chilis, jalapenos, sauteed onions with a chipotle aioli


Grilled onions, bell peppers, Swiss on grilled sourdough no sauce


Served on wheat or raisin bread


Its our Chicken Salad on grilled sourdough with swiss cheese


Grilled sourdough, Jack cheese, bacon, tomatoes and Hatch green chili


Pork Tenderloin, Ham, Swiss cheese, Pickles and mustard on grilled rye or sourdough


Choice of Wheat, Rye or Sourdough toasted or cold


Grilled, Toasted or Cold on wheat, rye, sourdough with lettuce, tomato

Melts get American cheese & tomato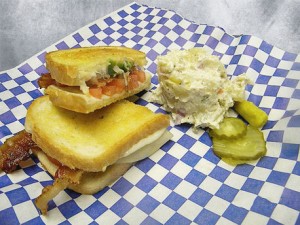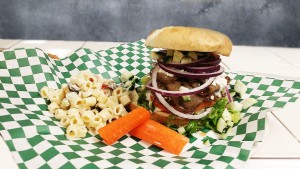 We start with fresh ground chuck, make our patties by hand and serve our burgers and melts with choice of daily side, lettuce, tomatoes, onion and house dressing
American, Cheddar, Swiss or Jack


Double burger (10 oz.) with Jack, Swiss, Cheddar & American Cheese


Grilled sourdough, Burger, Bacon, Tomato, Jack cheese & Hatch green chili


Burger, bacon, jalapenos, grilled onions, jack cheese with chipotle aioli


Burger, grilled onions, Swiss cheese, Russian dressing on grilled rye or sourdough

Open for Breakfast, Lunch and Laughs
DINE IN
Monday-Thursday
6 am – 3 pm
Across the street from Mesa Art Center in the lobby of the Mesa City Plaza. Enter on the north side, just off Pepper Place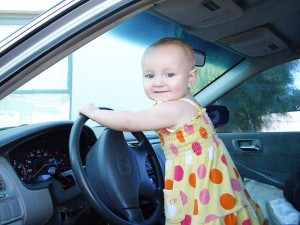 DELIVERY & TAKEOUT
Give us a call at (480) 964-3780 for delivery and pick-up orders. Our friendly staff is happy to help make your meal a special one!
Need to feed a crowd? We welcome "last minute catering" for office and board meetings too!